Colio from the farm of Augusto Coli : the only Umbrian extra virgin olive oil made CUM GRATIA
COLIO® Cum Gratia was born from the passion of the Augusto Coli Farm in producing a superior quality Umbrian extra virgin olive oil. Its properties make it an excellent and tasty condiment and an extraordinarily good and healthy food with incredible properties.
A GREAT LOVE STORY
Colio DOP ORGANIC: for us, the best oil in the world
Colio® is unique, because it contains an authentic love story. That of men for their own land. It is Umbrian extra virgin olive oil that is the result of the Cum Gratia project that seals and supports this bond, which has as its protagonist the activity of the Compignano Foundation, born of the desire to increase the beauty of one of the most characteristic villages of the region, ensconced in woods and olive grove covered hills, and improve the quality of life of the people who live there.
An organic extra virgin olive oil with a protected designation of origin Colli Orvietani, which comes from a blend mainly obtained with three different cultivars typical of central Italy, Leccino, Moraiolo and Frantoio, to which other local varieties are added in minimal quantities.
Everything happens thanks to a precise integrated cultivation system, which consists of dedicated breeding and milling techniques.
The olives, harvested with traditional systems that guarantee the maximum integrity of the fruit and protection of the plant, are immediately squeezed through a cold mechanical process.
Characterized by innovative technologies that allow constant temperature control, the process ends with the filtration of the product and with the reuse directly in the field, as a soil improver, of plant waste. A cycle that closes completely in compliance with environmental protection protocols.
The result of this processing is a harmony of flavors, scents and colors that encloses and enhances the qualities and nuances of these varieties of olives grown in the Umbrian hills. The gentle taste of Leccino, the fruity notes of Frantoio and the slightly bitter and spicy finish of Moraiolo make Colio a product of superior, refined and exclusive quality.
A perfect synthesis between an ancient knowledge, which continuously regenerates, and the generosity of an uncontaminated territory of boundless beauty, which for centuries has kept the secret of a healthy and profound balance between human activities and nature.
What makes an Umbrian extra virgin olive oil great? Its terrain. Our centuries-old olive trees are silent witnesses of the passage of illustrious people, powerful artisans, extraordinary artists.
FROM A BLEND OF MORAIOLO AND FRANTOIO OLIVES
An excellent Umbrian extra virgin olive oil
Colio® DOP ORGANIC is produced from carefully grown olive trees in total absence of herbicides, pesticides and any product with chemical composition. It is crushed in our organic-enabled oil mill and certified by laboratory analysis.
Colio® Mr EVOO is a very special Umbrian extra virgin olive oil, because it is a blend obtained from the squeezing of native varieties of Moraiolo and Frantoio olives.
The olives are always harvested from the olive trees owned by the Augusto Coli Farm which takes care of them CUM GRATIA ® on the hills surrounding Compignano, in Umbria.
PRODUCT PROFILE
Data Sheet
COLIO: 100% COMPIGNANO
OExtra virgin olive oil of a higher category obtained directly from olives and only by mechanical processes. Cold extract, oil extracted in Italy from olives grown in Italy.
Organic farm oil, the Augusto Coli Farm has been in organic conversion since 2018.
The 2019 Campaign is the first release of our Umbrian extra virgin olive oil.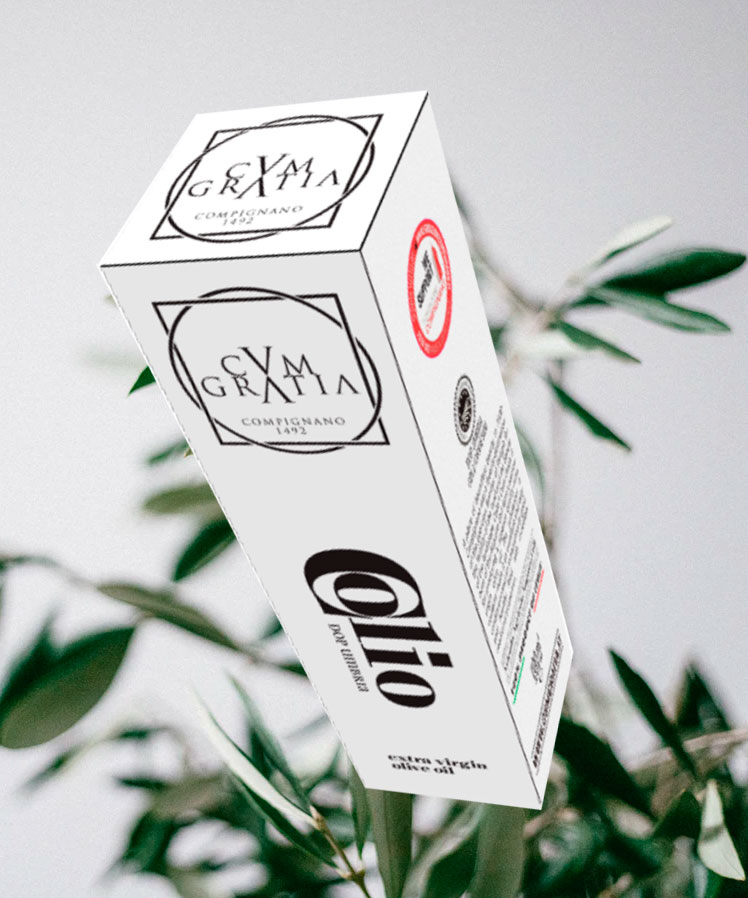 CULTIVAR (OLIVE VARIETIES)
Blend typical of our area with varieties of the species Moraiolo and Frantoio
PRODUCTION AREA
Province of Perugia, DOP Umbria Region – Colli Orvietani Area
LOCATION OF OLIVE GROVES
Loc. Fecciaine from Compignano, Montelagello
AVERAGE ALTITUDE
Ca. 380 meters above sea level
NATURE OF THE SOIL
Mostly clay, sometimes with the presence of gravel
AVERAGE AGE OLIVE GROVES
Several centuries
NUMBER OF PLANTS
About 2500
PLANT
Traditional
PRUNING
Annual
TREATMENTS CARRIED OUT
Organic fertilizer according to biological specification
COLLECTION PERIOD
From 15 October to 15 November
COLLECTION SYSTEM
Hand picking
EXTRACTION METHOD
The olives, within 6 hours of harvesting, are processed in the company continuous cycle mill (2 phases), equipped with knife crusher, vacuum kneading with vertical kneaders. Cardboard filtration at the exit of the decanter.
STORAGE
In special stainless steel containers in nitrogen-saturated environment, at controlled temperature at 18°C.
PRODUCTION PLANT
Company oil mill, located in Umbria in the territory of the Municipality of Marsciano, in Loc. Fecciaine from Compignano.
ANNUAL PRODUCTION
5000 liters
TASTING NOTES
ORGANOLEPTIC ANALYSIS
LOOK
Clear
DENSITY
Average fluidity
COLOR
Green with golden reflections
FRUITY CATEGORY
Average
AROMA (OLFACTORY ANALYSIS)
Pleasantly fruity with pronounced notes of freshly cut grass and artichoke.
TASTE (SENSORY ANALYSIS)
Pleasant and persistent in the mouth, bitter and spicy are present and well balanced, with typical notes of fresh grass and artichoke typical of moraiolo.
Store in a cool, dry place, keep at a temperature between 10 and 20°C. Do not expose to direct or diffuse light sources and hermetically close the container after each use.
The particular vigor of this excellent Umbrian extra virgin olive oil is appreciated raw on soups, salads and roasts.